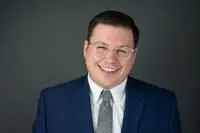 Andrew Fagin is an independent practitioner who shares office space with Bachmann Wellness/Family Therapy and Renewal Center. His website is Andrew Fagin Counseling.
He can be reached by phone at 918-984-1764.
Andrew is a native Oklahoman. He received his Bachelor's Degree in Psychology and Masters in Counseling from Oral Roberts University. After graduating, he was certified as a Licensed Professional Counselor. He has spent over six years working with individuals from diverse backgrounds in treating addiction and mental health issues. He has a strong passion for providing a goal and change-oriented treatment for each individual.
Andrew primarily works with older adolescents and adults. He enjoys working with people on various issues such as depression, anxiety, trauma, grief, self-worth, co-dependence, addiction, and obsessive-compulsive disorder.
Andrew is trained in a number of treatments including Acceptance and Commitment Therapy, Person-Centered Therapy, Eye Movement Desensitization and Reprocessing (EMDR), Written Exposure Therapy, Cognitive Behavioral Therapy, Motivational Interviewing, Dialectical Behavioral Therapy Informed Treatment, Collaborative Assessment and Management of Suicidality.
If you feel your anxiety is spiraling out of control or paralyzing you, depression makes you feel trapped or unable to do anything, anger explodes and harms your relationships or past experiences cause you to push others away, Andrew is prepared to work with you to find your strengths and help you reach your goals.
.